Take Care of Your Community and Your Community Will Take Care of You
---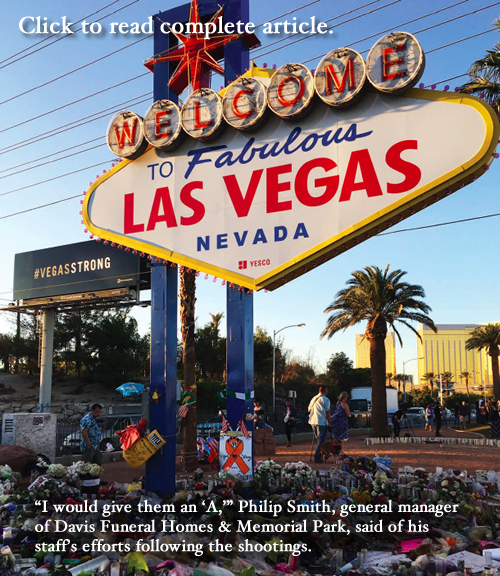 Read
Lessons from the Las Vegas Massacre
an article that ran in the January 2018 American Funeral Director. Davis Funeral Home & Memorial Park cared for 32 of the 58 people killed. The funeral home received assistance from staff from other Legacy Funeral Group funeral homes who flew into Nevada City the day after the shootings.
Read our article
in the latest
Southern Calls Magazine
about our 9/11 Commemoration and services for fallen Baton Rouge Officer Matthew Gerald.
More than just local businesses, funeral homes are in the center of their communities. Our team understands that throughout modern history, funeral homes have provided the platform for community gatherings during times of grief and mourning. Legacy Funeral Group is proud to be part of the communities we serve.
Legacy Funeral Group is an organization that has been built with attention to the individual components that make a community unique. We believe in giving back, remaining visible, and serving the communities that have welcomed us through the years.
Our employees are encouraged to volunteer at local organizations and support the community in ways that provide for all citizens to benefit. Through involvement with veterans, caregivers, first responders, hospices, clergy and local charities, giving back is an essential part of the way we operate every day. All members of our company are provided the resources, ability, and support to make a difference.
Giving back is simply part of our mission and how we do like to do business. Regardless of your goals and objectives, Legacy Funeral Group stands ready to help you with the support you may need to make it a success.